A first surface mirror, also known as a front surface mirror, is an optical grade mirror which provides superior accuracy for engineering and scientific applications. Unlike a standard mirror, which is coated on the second surface of the glass, a first surface mirror provides a true reflection with no double image.
Height

Width

Qty

Unit

Thickness

Product

Calculate

Unit $

Order

$0.00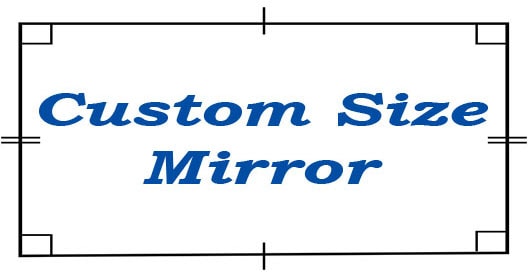 We stock a large inventory of first surface mirrors, ready to cut them to the size you specify. Use our online calculator to order or call us for pricing and ordering. We ship fast, usually same or next day.
A first surface mirror provides superior optical quality for engineering and scientific projects. Also known as front surface mirrors, they are ideal for applications requiring a true reflection with no double image. Regular mirrors have an aluminum mirror coating on the backside of the glass that creates a faint secondary reflection, known as "ghosting." First surface mirrors have an enhanced aluminum mirror coating on the face of the glass that maximizes the amount of light reflected and minimizes distortion. The price calculator can be used to order rectangular first surface mirrors, and in addition we offer price calculators for ordering circles and trapezoids.
About First Surface Mirrors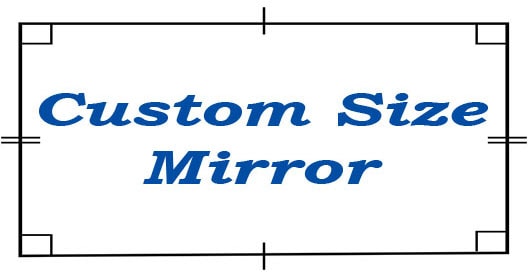 We stock a large inventory of first surface mirrors, ready to cut them to the size you specify. Use our online calculator to order or call us for pricing and ordering. We ship fast, usually same or next day.
Frequently Asked Questions
Do you ship outside of the United States?
Yes, we ship worldwide via FedEx and shipping is automatically calculated when you check out. Duties and taxes are billed separately on delivery.
Do you sell samples?
Yes, for your convenience we sell mirror samples (limit 1 per customer).
What's the largest size you can make?
The largest sizes we can make are: 72″x96″ for 1/4″ thickness glass and 49″x97″ for 1/8″ and 1/4″ acrylic
How likely is it that my glass will break in shipping?
We carefully package and fully insure all of our shipments. If it should arrive broken, please send us pictures of the box and broken glass and we will ship you a replacement.
What's the difference in quality between your products?
The glass is optical grade, so we recommend that over the acrylic for most applications. The 1/4″ glass is our best value–the added thickness of the glass provides a much better flatness than thinner glass.
Are the mirrors sharp?
We carefully sand the edges and corners with a wet belt sander to take off the sharp edge.
How should I clean them?
To maximum the life of the mirror coating, we recommend isopropyl alcohol 50% solution (lens cleaner). The best wipes for cleaning are Kimwipes, which is a specialty item you may not find in local stores.
How accurate is your cutting?
We typically cut to +/- 1/16″ (1.5mm) unless added accuracy is requested.
Do you offer metal coatings other than aluminum?
Aluminum provides the best reflection, durability, and quality for most applications. We receive a lot of requests for gold and silver first surface mirrors, and can manufacture them on request.
Silver coatings theoretically have good reflectance wavechart, but because silver is so reactive to the air and chemicals, often the real life results don't measure up to the theoretical specification.
Gold coatings are non-reactive and have good reflectance across a large spectrum, but because gold is so soft it's nearly impossible to clean the mirrors without damaging them. Gold coatings are also several times as expensive as aluminum, so they are generally cost-prohibitive for most applications.
Do you offer substrates other than float glass?
Soda lime float glass works flawlessly for most applications, but we can custom manufacture borosilicate glass mirrors, which have a better coefficient of thermal expansion. Additionally, we can coat polycarbonate and gorilla glass (chemically strengthened glass)
Our factory is located in Toledo, Ohio and we have been manufacturing first surface mirror products for twenty years. We offer superior optical grade quality, expert packaging, fast customer support, and ship your order efficiently and quickly, usually within one day. In addition to first surface mirrors, we offer optical grade beamsplitter mirrors, two way mirrors, and anti-reflective glass.