First Surface Mirror
Optical grade first surface mirror designed for science and engineering.
Precision cutting, fast shipping, and outstanding quality at your fingertips.
First Surface Mirror
Optical grade first surface mirror designed for science and engineering.
Precision cutting, fast shipping, and outstanding quality at your fingertips.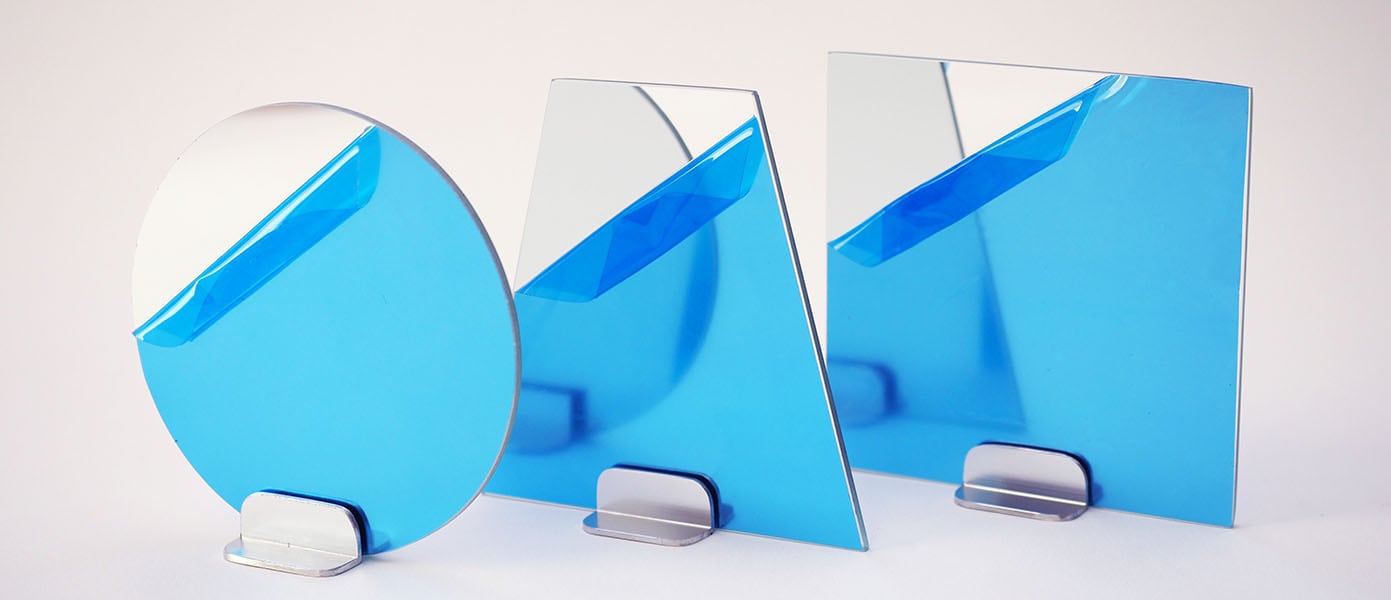 A first surface mirror, also known as front surface mirror, is an optical mirror providing superior accuracy for engineering and scientific applications. Unlike a standard mirror, which has the coating on the back side, a first surface mirror provides a true reflection with no double image.
First Surface Mirror Manufacturing
First surface mirrors are manufactured with with strict quality control conditions to ensure defect-free, undistorted reflection. They have a highly reflective coating with high performance in the visible, ultraviolet (see our UV Enhanced front surface mirrors), and infrared spectrum, as well as durability, resistance to corrosion, and thermal resistance.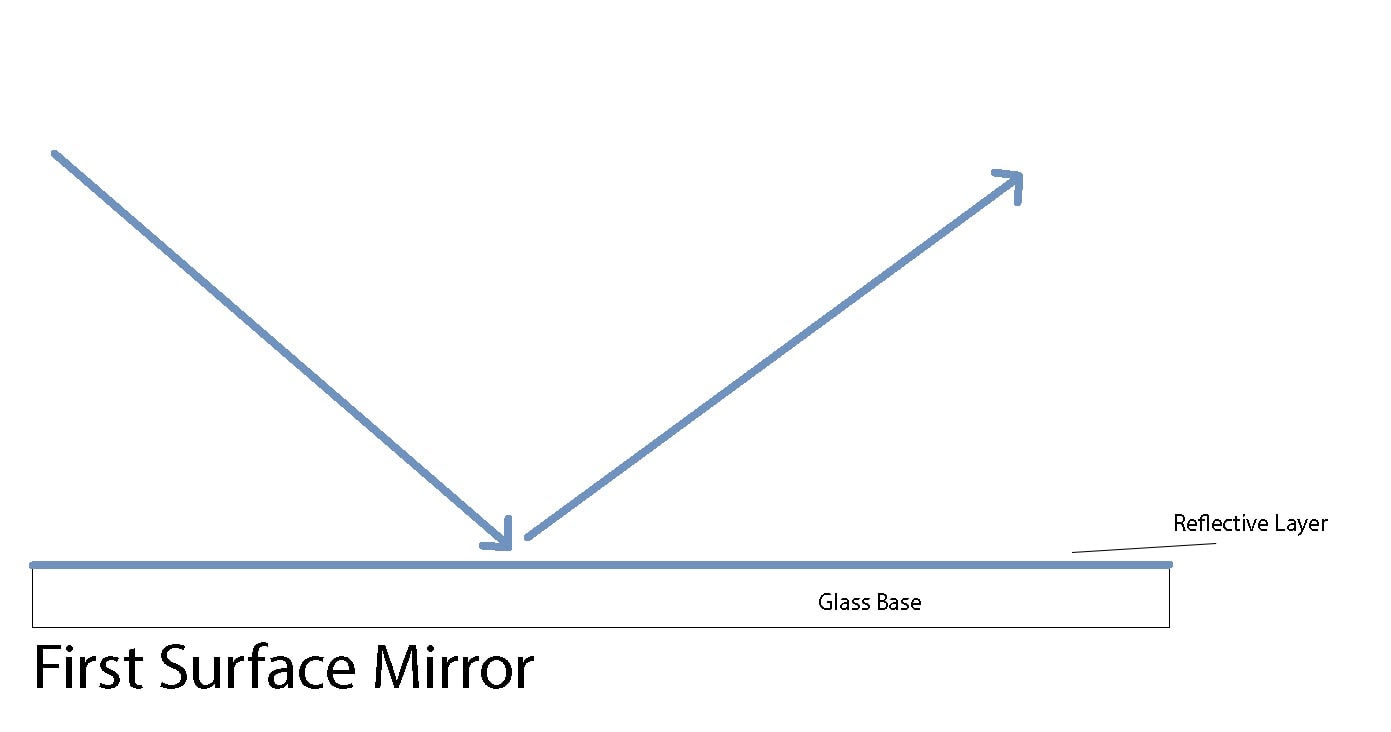 First surface mirrors have an aluminum mirror coating on the face of the glass that maximizes the amount of light reflected, minimizes distortion, and prevents a double image, also known as "ghosting."
The aluminum is vacuum deposited onto glass that is carefully selected for flatness and quality, along with a dielectric (non-conductive) layer to further enhance the reflective properties of the aluminum. The dielectric layer provides a durable overcoat that protects it from oxidation (tarnishing) and scratches. Using clean glass and strict manufacturing process is essential to preventing dust from creating bubbles in the coating, and other potential anomalies in the coating, such as thermal expansion and fingerprints.
After coating, a laminate is applied over the finished glass to protect it during cutting, shipping, and until final use.  Once laminated, our engineers cut the mirror to our clients specifications and sand, miter, or polish the edges to eliminate sharpness.
How fast can you ship my order?
To ensure fast production, we stock a large inventory of first surface mirrors and have a team standing by to cut them to the size you specify.
To make ordering easy, we allow ordering with our online calculators, or you can call us for pricing and ordering.
The moment we receive your order, we start cutting and packaging it. We ship fast, usually same or next day.
High volume orders may take longer but we are able to ship as the mirrors are manufactured, when requested.
First Surface Mirror Shipping
Front surface mirrors are carefully packaged: small mirrors are carefully wrapped in protective bubble wrap and large mirrors are shipped in custom crates with foam sheathing protecting all sides.
Our orders ship via FedEx or freight (for large mirrors) from our factory in Toledo, OH.
Worldwide Shipping: International shipping is convenient, due to 2-4 day transit times, careful packaging, customs clearance provided by FedEx, and accurate documentation. Duties and taxes are charged separately by FedEx before delivery.
First Surface Mirror Gallery
First Surface Mirror Applications
Flight simulators, periscopes
Broadcasting, photography, projection.
Optics, astronomy, physics, lasers
Optical illusions & museum exhibits
Hollywood special effects
High speed photography
Stage magic
Manufacturing automation
Kaleidoscopes, product photography
Ophthalmology eye exams, dental mirrors
Lighting effects
Metrology
Robotics
Benefits & Advantages
Optical Grade Mirror Coating
Durable Dielectric Overcoat
Guaranteed Quality
Fast Quotation
Same Day Shipping
International Shipping
Careful Packaging
Fully Insured Shipments
Precision Custom Cut
Sanded Edges
No Minimum Order
Ships Via FedEx
Discover why scientists & engineers switch to us.
Simple. We don't waste your time. The engineers and scientists we work with to meet project deadlines don't have time to waste waiting for others to fabricate their first surface mirrors, crossing their fingers that the glass will be high quality and arrive unbroken. We keep a large inventory of optical mirrors on hand, and have glass experts standing by to immediately cut and ship them.
In addition to supplying the highest grade coatings, we also have strict quality standards to make sure mirrors are precision cut, double checked, and packaged extremely carefully. Take advantage of our expertise, wide selection of optical mirrors, extensive technical documentation, guaranteed quality, and inexpensive product samples.
First Surface Mirror Video
Contact Our Experts
Our team of engineers are standing by to field your questions. We have the expertise to quickly and accurately answer all of your questions.
Questions? We've Got Answers
Do you sell samples?
Yes, for your convenience we sell mirror samples (limit 1 per customer).
What's the largest size you can make?
Maximum Sizes:
6mm (1/4″) Glass: 70.886″ x 52.756″
3mm (1/8″) Glass: 32″x50″
1.9mm Glass: 16″x 25″
1.0mm Glass: 16″x25″
1/4″ & 1/8″ Acrylic: 49″x97″
How do you prevent breakage in shipping?
We carefully package and fully insure all of our shipments. If it should arrive broken, please send us pictures of the box and broken glass and we will ship you a replacement.
Can you provide oleophobic or hydrophobic coatings?
Yes, you can easily apply hydrophobic coatings on the dielectric layer which offer easy to clean performance, including oil and water repellency. For more information, see our page on hydrophobic first surface mirrors.
Are the mirrors sharp?
We carefully sand the edges and corners with a wet belt sander to take off the sharp edge.
How should I clean them?
To maximize the life of the mirror coating, we recommend isopropyl alcohol 50% solution (lens cleaner). The best wipes for cleaning are Kimwipes, which is a specialty item you may not find in local stores. Alternatively, microfiber wipes are commonly used.
How accurate is your cutting?
We typically cut to +/- 1/16″ (1.5mm) unless added accuracy is requested.
Why use aluminum instead of silver or gold?
Aluminum provides the best reflection, durability, and quality for most applications. We receive a lot of requests for gold and silver first surface mirrors, and can manufacture them on request.
Silver coatings theoretically have good reflectance wavechart, but because silver is so reactive to the air and chemicals, often the real life results don't measure up to the theoretical specification.
Gold coatings are non-reactive and have good reflectance across a large spectrum, but because gold is so soft it's nearly impossible to clean the mirrors without damaging them. Gold coatings are also several times as expensive as aluminum, so they are generally cost-prohibitive for most applications.