Height

Width

Qty

Unit

Thickness

Calculate

Unit $

Order

$0.00
First surface mirrors, also known as front surface mirrors or FSM, provide a true reflection with no ghosting effect. Regular mirrors have an aluminum mirror coating on the backside of the glass that creates a faint secondary reflection. Often used for engineering and science, glass first surface mirrors eliminate ghosting, maximize the amount of light reflected, and minimize distortion.
On this page, we offer custom size ordering (for rectangles and squares), which ships immediately out of our factory in Toledo, OH. We also provide technical specifications, features and benefits, product photo and videos, and answer a wide range of frequently asked questions.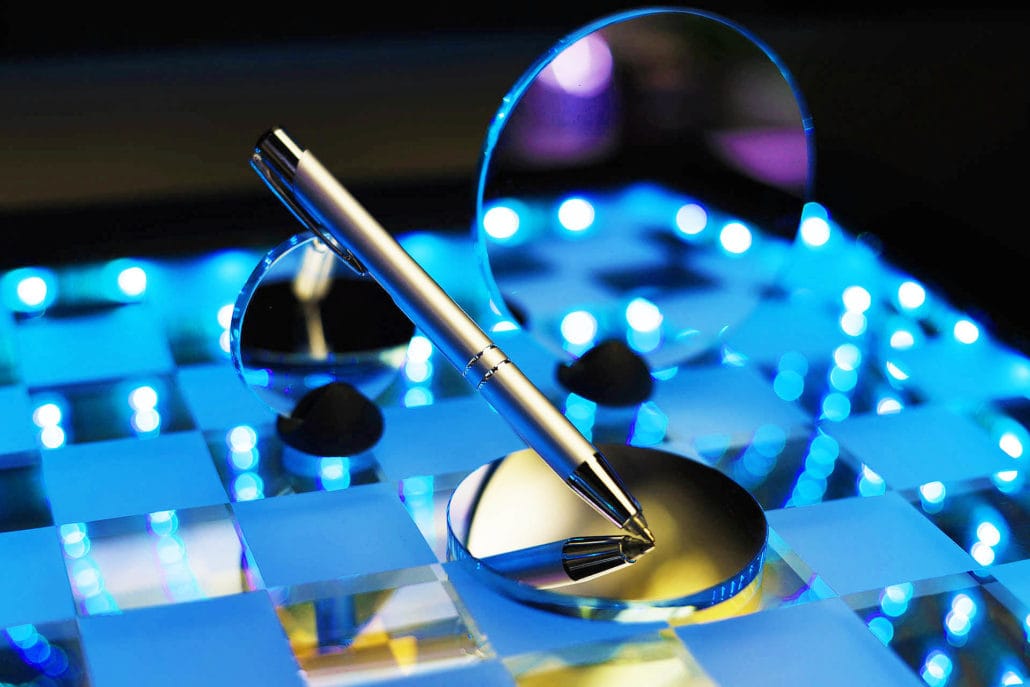 Shapes such as circles, trapezoids, ovals, and waterjet cut shapes are available.
Opaque with 0% transparency
96% reflective
1λ per inch flatness (selective double flat)
Comes with protective laminate over coating
Manufactured in the USA
Quantity discounts available
Same day shipping
International shipping
Factory Automation
Barcode scanners
Flight simulators, periscopes
Broadcasting, photography, projection.
Optics, astronomy, physics, lasers
Hollywood special effects
High speed photography
Kaleidoscopes, product photography
Ophthalmology eye tests, dental mirrors
We cut and ship the glass first surface mirrors immediately. We ship mirrors under 24″ x 30″ in carefully packaged boxes with FedEx while larger mirrors are more extensively packaged in a custom wood crate and shipped via freight. All shipments are fully insured to protect our customers. Less than 1% of our shipments arrive broken. On the rare occasion breakage should occur, we will gladly replace the mirrors–just send us pictures of the mirror and damaged box.
How fast do you ship my order?
The moment you order, our team jumps into action to cut and box it right away. For low quantity orders, this means we usually ship immediately.  For higher quantities, the order typically takes 1-5 days. If you need a specific lead time, we're glad to quote and expedite.
Is ordering on this page the same as calling in my order?
Yes, our price calculator allows you to order standard sizes and quantities at any time.
Can I order samples?
Please feel free to order samples first to evaluate the quality of our mirrors. Limit 1 per customer.
Glass First Surface Mirror Sample – 1/4″ thickness (Random Size)
$9.95Add to cart
Glass First Surface Mirror Sample – 1/8″ thickness (Random Size)
$9.95Add to cart
Glass First Surface Mirror Sample – 1mm thickness (Random Size)
$9.95Add to cart
Glass First Surface Mirror Sample – 1.9mm thickness (Random Size)
$9.95Add to cart
Quality & Specification Questions
Does the size affect the quality?
Maximum flatness of 1λ is available in sizes up to 32″x50″ in size (our small stock sheet size). Larger mirrors (up to 52.756″ x 70.886″) have the same flatness as standard float glass (4-6λ per inch). We also offer enhanced flatness first surface mirrors in 5mm thickness in sizes 32″x50″ and smaller.
Does mirror thickness affect the quality?
How easy are they to clean?
Thanks to an extremely high grade dielectric coating, the mirrors are extremely easy to clean without scratching them. For optimal performance over time, simply use isopropyl alcohol (lens cleaner) and microfiber wipes.
Many of our clients have replaced their lower quality mirrors, which degrade over time, with our mirrors.
What is the dielectric overcoat?
The dielectric overcoat is a special silicon oxide coating that's applied during manufacturing to prevent tarnishing (oxidation) and increase reflectivity in the visible light spectrum. It also increases durability by providing a hard coating which is easily cleaned without scratching. It can be tweaked to maximize performance in other light spectrums, such as ultraviolet.
What's the largest size you can cut?
Maximum size: 52.756″ x 70.886″.
Will the mirrors be sharp?
We use a high quality wet sander to take the sharp edges off before shipping. If you prefer the mirrors to be sharp, please let us know when ordering.
How accurate is your cutting tolerance?
Our size tolerance is +/- 1/16″ unless you need a tighter specification. Please contact us for a custom quote if you need a higher level of accuracy.
Can you cut other shapes besides rectangles?
Yes, we have a waterjet and access to various other equipment to cut special shapes. For quotation, please send us a drawing in JPG or PDF format, the size tolerance, and the quantity you're looking for. For cutting, we accept CAD files.
What's the best way to cut the glass?
If you're planning to cut the mirrors later instead of ordering them to the size you need, a standard score-and-break method is recommended. You'll need to purchase a quality glass scoring wheel and glass pliers. We offer many different products on our accessories page to make it easier. Small cuts are best done on a waffle grid cutter to ensure accuracy. Sandpaper or a sanding block is useful for sanding the sharp edges. Many useful tutorials can be found on our Optical Mirror channel.
What is the blue laminate on the surface?
The blue Nitto laminate is a protective plastic that protects the mirror surface during cutting at our factory and before use. To remove the laminate, you can start it with your fingernail in the corner or use Scotch or packaging tape.
Should I worry about scratches?
The mirrors have a hard dielectric layer which protects them, making them resistant to scratches and easy to clean.
Should I worry about fingerprints?
Fingerprints don't affect the mirror–you can simply clean them with microfiber and isopropyl alcohol (lens cleaner)
What adhesives do you recommend?
To preserve flatness, it's important to avoid heavy glue adhering them to a material with a different thermal expansion rate. A 3 point method with VHB tape can help prevent bending. Alternatively, a loose frame (often 3D printed) can hold the mirror lightly without affecting reflection. If a heavy adhesive must be used, Gunther Mirror Mastic is recommended instead of silicone.
Can I coat the mirrors with a protective laminate?
You can add the laminate back by using our Precote 33 spray
Can the mirrors be used outside?
Yes, provided you can protect the mirror surface from debris which may blow against the surface, scratching it.
Do you ship internationally?
Yes we ship worldwide. FedEx rates are automatically calculated when you check out. Duties/taxes are billed separately by FedEx.
What's the chance mirrors break in shipping?
Less than 2% of our shipments arrive broken. If it should arrive broken, please send us pictures of the mirror and box right away, and we will send replacements.
How do you package the mirrors?
Small mirrors are carefully packaged in bubble wrap and shipped via fedex. Larger mirrors are crated with several inches of styrofoam on all sides. In the rare case that your mirror arrives broken, just send us pictures of the broken glass and box and we'll send replacements right away.
What is the best way to clean them?
How much do the mirrors weigh?
1/4″ thickness – 3.3 lb / sq ft
1/8″ thickness – 1.6 lb / sq ft
1.9mm thickness – 1 lb / sq ft
1mm – 0.5 lb / sq ft
Where can I download the technical specifications?